Banking •
December 28, 2021
4 student bank accounts: what to look for and the top accounts for you
What should you look for in a student bank account? This guide explores some top options, as well as the factors that are most important in choosing.
Heading off to college is an exciting time—but adulting is hard work. 
Not only do you need to navigate moving away from home (likely for the first time), you'll also need to work out the financial logistics of paying for school, rent, and ramen noodles. 
Most of these activities will require a bank account. And sure, you may already have a basic checking account set up—but are there benefits to a student-specific bank account? 
There sure are! Student bank accounts often offer lower fees, lower minimum deposits, and various other perks for students. 
This guide does a deep dive into all things student banking. Let's get started! 
Do yourself a favor. Get a smart money app and start getting your financial sh*t together!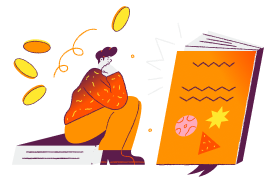 What is a student bank account? 
Student bank accounts are specifically designed for college students. No surprise there!
These accounts have features that cater to the financial needs of students. Typically, this looks like:
Lower minimum balances (or no minimum balance)

Lower monthly maintenance fees (or no fees at all)

Access to financial literacy resources or learning materials

Support for joint accounts with parents (this is often required if the student is under 18)
Generally speaking, you need to be an active student in order to open a student checking account. Most banks require that you be actively enrolled in a program, while others only have an age requirement. 
Once you graduate, the student account will typically be converted into a normal checking account at the same bank. The benefits may change a bit, but the basic functionality (and account numbers) should stay the same. 
A student bank account always comes with a checking account and usually comes with a savings account, too. 
Both are typically under the same umbrella—meaning you'll use one login to access both and can easily transfer money between accounts. See our checking vs. savings account explainer for more info! 
What are the best student bank account options? 
So we know the basics—but who actually offers the best student bank account? 
Each bank and financial institution has its own pros and cons, so it's wise for students to study up on the details. 
Below, we've put together a list of some top options to point you in the right direction. For even more options, check out our full list of the best student bank accounts. 
1. Mos
Mos is student banking reimagined for the 21st century. 
Mos is an all-in-one financial solution for students. We offer a debit card, online banking, access to 50K+ ATMs with no fees, and a quick way to send and receive money.
Mos has no minimum balance requirement, and zero overdraft fees, late fees, or in-network ATM fees!
But we're just getting started. Mos is also the financial aid solution for college students. You can use Mos for help submitting your FAFSA, browse scholarships you're eligible for, and directly apply for scholarships and grants—all from within the Mos platform.
There's more! Mos advisors are also on hand to guide you through the process. You can get 1:1 guidance from a college finance expert to make sure you get as much free money for school as possible.
Keep in mind that Mos isn't technically a bank—we're a technology company. The banking products we offer are in partnership with Blue Ridge Bank.
This unique structure allows us to offer far more than your typical bank account. At Mos, we're on a mission to help students master their finances and chase their dreams—without taking on crushing student debt in the process!
Sound good? Check Mos out today. 
2. Chase Bank College Checking 
Chase is one of the biggest banks around, and its College Checking account is great for students. It's available to college students from ages 17–24.
Highlights of this account include:
No monthly service fee while you're in school (up to 5 years)

Overdraft protection if you have a Chase Savings Account

Bill pay

Account transfers

Zelle® for peer-to-peer transfers

"Autosave" tool to automate your savings strategy

Plenty of educational resources for money management

Mobile banking
Plus, Chase has a large network of physical bank branches. If you prefer to do your banking in person, this is a good option. They have tons of branches on the East and West coasts, but they don't have as many branches in the Midwest. 
3. Capital One 360 Checking 
Capital One's 360 Checking Account isn't specifically designed for students, but it boasts many of the features that students benefit from. This includes no minimum account balance requirement and a large network of fee-free ATMs. 
Some highlights of the 360 Checking Account include:
No minimum balance

No monthly maintenance fee

Debit card lock/unlock at the tap of a finger

Online bill pay

Zelle® transfers

Spending tracking

Purchase notifications 

Free credit monitoring

A network of over 70,000 fee-free ATMs
Capital One has some physical branches, as well as "Capital One Cafés," where you can grab a latte and handle your business. 
They don't have as many branches as a bank like Chase or Bank of America, but Capital One has also partnered with CVS Pharmacies to allow students to deposit cash into their accounts at CVS locations. 
4. Bank of America Advantage Checking 
Bank of America's Advantage Checking account is open to anyone (not just students), but the monthly maintenance fee is waived for students under the age of 24!
Some highlights of the account include:
A virtual banking "assistant" to answer questions instantly

Great budgeting and spending-tracking features

Zelle® payments for transferring money

Mobile deposits

Credit score monitoring

Fraud monitoring

Mobile banking
Bank of America is a huge traditional bank with over 4,000 locations, so chances are there's a branch in your area. 
How to choose the right student checking account for you 
There are dozens of student bank account options out there—how do you narrow things down? 
Here are the factors that are most important to consider in your search.
No monthly account fee. Some banks charge a monthly account maintenance fee that can really add up over time. Skip these costly accounts to stretch your student dollar further!
No minimum balance requirement. Look for a bank that has no minimum balance requirement, which means you can keep as little as $0.01 in your account. 
No direct deposit requirement. Some banks require that you receive a regular direct deposit into the account in order to waive a monthly fee. Since students may not have any regular income, it's important to find a bank that doesn't have this requirement. 
Solid online banking and mobile app. What is this, 1997? Banks should have student-ready technology. That means a slick mobile banking app to deposit checks and monitor your money, as well as adequate online banking functionality. You can look at app-store reviews of bank apps to gauge how functional an app might be!
Low fees. All banks will have some sort of fees—for late payments, overdrafts, etc. However, it's wise to find a student account with very low fees overall. Online banks tend to have lower fees than traditional banks, but student accounts specifically generally have low fees. 
Large ATM network. You'll probably need to grab cash every now and then, or you may want to make a deposit without heading to a branch. Look for a bank with a solid network of ATMs that are fee-free. 
This is an important distinction. Any bank allows you to use any ATM, but they may charge you a fee. Students should look for an account with a large network of no-fee ATMs. 
FDIC insurance. FDIC insurance keeps your money safe in the event that the bank goes out of business or otherwise loses your money. It's pretty important! 
Good customer service. If something goes wrong, you want to be able to trust that the bank will sort things out. Looking for banks with good customer service ratings is wise. 
Rewards and perks. Look for a bank account that offers some sort of reward system or other perks. For instance, you may find a debit card with a rewards/cashback program or an option like Mos that helps you navigate financial aid and scholarships. 
There may be other things to consider based on your situation. For instance, you may want to choose a bank with nearby physical branches if you prefer to do your banking in person. 
Frequently asked questions about student bank accounts 
We've covered the basics, but here are answers to some of the most common questions that students have about bank accounts. 
What benefits do student bank accounts offer? 
Each bank will have slightly different benefits. Some of the most common are no minimum balance and low (or no!) monthly maintenance fees. 
Many "vanilla" bank accounts have a minimum balance both to open and to maintain the account—they may require a $500 opening deposit and a $100 ongoing minimum balance, for instance. Student accounts typically don't have these requirements. 
Also, many bank accounts have a monthly account fee, often of $5–$15. The majority of student bank accounts get rid of this fee, at least while you're enrolled in school. 
Which bank account is best for students? 
Looking for the tl;dr? 
Some of the best bank options for students are Mos, the College Checking account from Chase, Capital One 360 Checking, and Bank of America Advantage Checking. We discussed these accounts in greater detail above. 
For even more info, check out our related guide: What is the Best Bank for College Students? 
Is it worth getting a student bank account if you have a checking account? 
Chances are you already have some sort of checking or savings account. Is it still worth signing up for a student account?
In most cases, yes! Student accounts usually have lower fees (or no fees) and are generally better suited to the financial needs of students.
With that said, if your existing account doesn't have a monthly fee and you're happy with it, there's no need to sign up for a student-specific account.
Can I open a student bank account online?
In most cases, yes. All of our top recommendations allow you to open an account online. 
When you open an account online, you'll be mailed a debit card and other essentials. For your first deposit, you can transfer funds in from another account, or you may be able to wait until the account is open to deposit cash in person or at an ATM.
However, keep in mind that if you're under 18, you'll likely have to go into a physical branch. You may also need a parent to co-sign on the account if you're a minor. 
What's needed to open a student bank account? 
To open an account, you'll typically need the following info:
Your full legal name

Your address

Your date of birth

Your government-issued ID (driver's license, passport, etc.—a student ID won't work)

Your Social Security number (SSN)

An initial deposit (often as little as $1, as most accounts have no minimum) 

Your student ID, if the bank requires proof that you're a student
Lastly, if you're under 18, you may need to bring a parent or guardian with you when you open the account. 
What happens to the account after you graduate? 
Some accounts are only for students, and you must prove that you are a student (or under a certain age) to qualify. In this case, what happens when you finish school or get "too old" for the account?
This can vary from bank to bank, but typically, the account will be converted into a normal checking account once you graduate. 
You should be able to keep the same account number and other details, but the account benefits (and fees) may change. 
Do schools offer students bank accounts directly? 
No. Colleges aren't in the business of banking, so they can't directly offer student bank accounts.
But, some universities and colleges may have partnerships with specific banks. Schools may negotiate specific banking perks for their students, and some colleges have bank branches on-campus. 
This college-bank partnership trend is really popular. In fact, a study found that roughly 40% of students attended a school with a bank partnership in place!
Are there bank branches on school campuses? 
Some colleges have bank branches on-campus, and all schools will at least have a few ATMs. And banks targeting students tend to have branches right next to campuses. 
But since most banking is handled online these days, you shouldn't have a problem even if there isn't a branch on your campus. 
Are student bank accounts checking or savings accounts? 
Most student accounts are student . You can typically open a savings account at the same time, and both will be tied to the same online banking login. 
Do yourself a favor. Get a smart money app and start getting your financial sh*t together!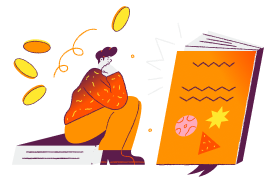 Conclusion
Managing your money is hard work, but a good student bank account can help! 
When choosing a bank to use, think about what's most important to you. Is it access to nearby ATMs? Low fees? Easy transfers? Look for the features most important for your needs. 
And if you're looking for an all-in-one approach, check out Mos. Mos is banking for students reimagined for the 21st century. The simple debit card and app keep you connected to your money without pesky fees or minimum requirements. 
But Mos is much more than just a debit card—it can also help you submit the FAFSA, apply for thousands of scholarship opportunities, and more. 
Sign up today, or check out our FAQ section to learn more. 
Get paired with a financial aid expert

Get more money for school
Get me my money