Banking •
April 1, 2022
College checking account: what students need to know
A good college checking account should have no fees, no minimum balance, and a large ATM network. Here's everything students need to know about banking.
Ahh, adulting. In high school, it's easy enough to coast by with Cash App and the Bank of Mom & Dad. But when it comes time to head off to college, it's time to get real about banking!
Banking for college students doesn't need to be complicated. 
In fact, you should look for simple options with no fees, no account minimums, access to online banking, and no funny business. A simple college checking account is the way to go.
This comprehensive guide will cover everything there's to know about college checking accounts. Let's get started! 
Do yourself a favor. Get a smart money app and start getting your financial sh*t together!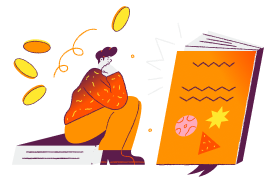 What is a college checking account?
A college checking account is simply a special type of bank account that has been designed specifically for the needs of college students. 
Generally speaking, this means an account with features such as:
No minimum balance requirement (so you don't need to have a lot of money)

No monthly fees (so you don't need to spend a lot of money)

No direct deposit requirement (because how many students have time for a job, too?)

No age requirement (no worries, freshmen!) 
It also means an account that's easy to use, has a modern smartphone app for on-the-go banking, and has access to a large network of fee-free ATMs. 
Many college checking accounts are only available to college students. These accounts may require you to verify enrollment at a college or university before joining. 
Other accounts don't specifically require enrollment at a college but are simply designed for college-aged people. 
And still, other accounts are open to anyone but fit well with what college students actually need.
They may offer specific perks, like lower fees or better rewards. 
And some accounts will convert into a standard account after you graduate school, so you won't have to open a separate "real-life" checking account later. 
Credit unions may offer student bank accounts, as well. Credit unions are known for low fees and friendly service, although their technology/apps might be a bit less advanced than big bank apps.
What features should you look for in a college checking account? 
The best college checking account will include most or all of the following features: 
Low minimum balance (or no minimum balance)

A free debit card

No monthly maintenance fee

Low fees

No maximum number of transactions

Fee-free ATM access

Free online banking/mobile banking

A functional mobile app

FDIC or NCUA insurance

Student-specific features, perks, or rewards
Low minimum balance requirement
A minimum balance requirement means that you need to always have a certain amount of money in your checking account. For example, if there's a $100 minimum balance, you must have at least $100 in your account—if you drop under that amount, you may be charged a fee. 
College students aren't exactly rolling in the dough, so most students should look for a bank that has no minimum balance requirement. Or at least a very low minimum balance, like $1. 
Free debit card
You'll want a debit card to make everyday purchases, pay bills, and transfer money to friends. And of course, the debit card should be free to get and to use!
The best student debit cards also earn cashback debit rewards or come with other bonus perks. Shop around to find one that suits your needs.
No monthly maintenance fee
Some banks charge a monthly service fee or account fee just to let you use the account! The last thing you need is bank fees stretching your student budget thin. Look for an account with no monthly fees. 
Low fees
There are other miscellaneous fees that some banks may charge. For instance, a bank might charge an overdraft fee if you spend more than you have available in your account. 
Look for a checking account that has low fees. It's also wise to double-check what fees your account includes so that you can avoid them! 
No maximum transaction limit
Some banks charge extra fees if you complete more than a certain number of transactions.
It's your money—you should be able to spend it how you want to! Avoid any bank that has a cap on maximum transactions.
Note: The rules for savings. Most savings accounts have a low minimum transaction limit (5-10/month is common). But for checking accounts, there shouldn't be a maximum. 
Network of free ATMs
Cashapp and Venmo are cool, but sometimes you just need some actual cash. Look for a bank that has free ATM access. 
Ideally, you want access to a wide network of fee-free ATMs. Some banks partner with other banks to expand access or join nationwide networks of fee-free ATMs.
It's also wise to double-check that there are compatible ATMs on or near your campus. 
Free online and mobile banking
You should have access to online banking and mobile banking, and there shouldn't be any extra fees for the privilege! 
A functional mobile app
Most banks now have mobile banking. But, well, some apps are better than others. You can check App Store or Google Play reviews to get an idea of how functional a bank's app is. 
FDIC or NCUA insurance
FDIC insurance protects your money if the bank ever goes out of business, is hacked, or is robbed (does that actually happen anymore?). Your account will be insured up to $250,000. Which, as a student, is probably plenty.
NCUA is similar, but it's specifically for credit unions. 
Student-specific features and perks
Don't forget, we're talking about student bank accounts here. So what's in it for the students? 
Students, of course, want cheap (or free) banking services and no minimum requirements. But beyond that, some college bank accounts offer other perks. 
This could include:
Cashback on debit card purchases

Student rewards

Help with scholarships

Access to exclusive scholarships 
And more!
Not to toot our own horn, but we think Mos is the best college checking account. Mos has no monthly fees, overdraft fees, or minimum daily balance fees, and it gives you access to 50,000+ free ATMs.
Better yet, Mos offers students access to the largest scholarship pool in America—and makes it easier to find scholarships you qualify for. 
How to open a college checking account 
Each bank will have a slightly different process for opening new accounts. But most college checking accounts allow you to open an account online. 
You'll need to sign up following the instructions provided by the specific bank. In most cases, here's what you'll need:
Name

Date of birth

Address

Mailing address (if different)

Social Security number (SSN)

Parents' information (if you're under 18)
You'll also need to meet the minimum opening deposit. This could be a very small amount of money—but most banks require you to have some amount of money to open an account. 
You can transfer this money from another account or deposit cash if you're opening in person. 
Some banks may also allow you to open the account first and make the initial deposit later. In this case, you could also deposit cash using an ATM once you receive your debit card in the mail. 
Once you open your account, you'll be able to set up an online banking account. And you'll be sent a debit card in the mail. 
You'll also receive an account number. This number, along with the bank's routing number, is what you will need to receive direct deposits, including paychecks and certain types of financial aid. 
Finally, you can download the mobile app, activate your debit card, and get started banking! 
How old do students need to be to open a bank account?
Different banks have their own rules for how old users need to be. Students over age 18 will find that they can open student bank accounts at almost any bank. 
Many college checking accounts are also open to younger people, often with a minimum age of 16 or 17. 
For younger people, there are teen checking accounts that are often available to those as young as 13.
Finally, remember that some college checking accounts are only open to those enrolled in college. This can be another requirement in addition to the minimum age. 
What are the best college checking accounts? 
The best student bank accounts have free access to online banking, no monthly fees, and student-specific perks. We have a full list of the best student checking accounts for you to browse. 
Want a quick round-up? Here they are.
Mos Student Checking Account (more on this below)

Chase Bank College Checking Account

Bank of America Advantage SafeBalance Checking Account

PNC Virtual Wallet Student Checking Account

U.S. Bank Student Checking Account

TD Bank Convenience Checking
It can also be helpful to look for local credit unions in your area if you prefer the small bank vibe. 
If you prefer banking at a physical location over online banking, then you may wish to look for banks with a physical presence in your area. 
Read more about the best banks for college students here. 
Meet Mos 
Mos is a banking solution for students. In our humble opinion, Mos is the absolute best option for student banking. Over 400k students have joined Mos, and we're proud to be helping so many incredible students handle their finances. 
Mos has tons of features that are important for students. 
There's no minimum balance requirement, so you can get started with any amount of money. It's completely free to join, and Mos offers some of the best perks for students. 
Mos offers a student debit card, a full-featured mobile app, and access to 50,000+ fee-free ATMs! 
It also has no fees:
No monthly account fees

No overdraft fees

No minimum balance fees

No ATM fees on 50,000+ ATMs

No debit card fees

No nonsense 
But Mos is more than just a bank account. It also gives you access to the largest scholarship pool in America. And it makes it much easier to find and apply for relevant scholarships! 
Mos lets you skip the lengthy scholarship search and get matched to scholarships that you qualify for. All from within the Mos app. 
Mos also gives students access to Mos Advisors who can help you navigate how to save on college. You can get 1:1 support to help nail your applications, negotiate for discounts, and avoid costly mistakes. 
Finally, Mos supports all the features that students need and want. Apple Pay, Google Pay, a simple direct deposit function, a digital card for secure online payments, referral bonuses for inviting friends, and much more. 
Conclusion 
Banking as a college student doesn't need to be complicated. Students should look for a college checking account with no minimum balance, no monthly fees, and, ideally, some perks specific to the needs of students. 
Want a simple, all-in-one banking solution that also plugs you into scholarship opportunities? Join Mos.com today to learn why savvy students are banking with Mos. 
Get paired with a financial aid expert

Get more money for school
Get me my money