Scholarships •
August 10, 2022
A guide to the College Bound Scholarship: who's eligible and how to apply
Read this guide from Mos.com to learn everything you need to know about the College Bound Scholarship.
One of the biggest issues students have with securing scholarships is that they aren't always very inclusive. Some college funding programs have oddly-specific eligibility requirements, while others may ask for sky-high GPAs or standardized test scores.
But if you're living in Washington, you're in luck—because the state's College Bound Scholarship (CBS) program offers a wide range of students opportunities to secure free cash to pay for tuition, fees, and even textbooks.
As always, there's a bit of fine print you need to be aware of, though. This is a need-based scholarship, so you have to demonstrate financial need. But the application process is incredibly simple, and the program can offer a major boost toward your college fund!
This guide explains what the College Bound Scholarship is, who is eligible, and how to apply for the College Bound Scholarship.
Do yourself a favor. Get a smart money app and start getting your financial sh*t together!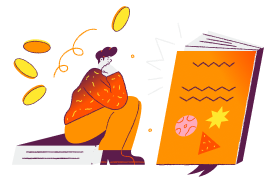 What is the College Bound Scholarship?
The College Bound Scholarship is a college financial aid scholarship provided by the state of Washington to eligible students who are enrolled in middle school and meet the requirements of the College Bound pledge.
We'll cover exactly what the College Bound Scholarship pledge is in just a minute.
The College Bound Scholarship is a state-funded, need-based scholarship program, which means it's not available nationwide. This program is exclusively for students who live in Washington and plan to go to a college or university in Washington after graduating high school.
The scholarship is administered by a Washington state government organization called the Washington Student Achievement Council (WSAC) in cooperation with the Washington College Access Network. The program was created as a way to boost student success and improve high school graduation and college enrollment rates among low-income students.
The program asks junior high school or middle school students to commit to meeting the conditions of scholarship eligibility before even reaching high school. The intention is that students will be encouraged to dream big and pursue a college education they might not have otherwise considered.
Again, it's important to note that the College Bound Scholarship program is for Washington students planning to get a college degree in the state of Washington. 
As a result, the scholarship can only be used at certain schools in Washington. But even then, more than 65 universities, colleges, and technical schools in the state take part in the College Bound Scholarship program—and so you're pretty spoilt for choice if you qualify for the program!
In terms of what the College Bound Scholarship covers, awards are meant to be used to pay for college tuition fees and a range of college admin fees. You'll also be given a small book allowance. 
The scholarship is generally designed to help students pay for large chunks of their tuition fees at public college rates. But the exact amount of financial support a student may receive as part of the College Bound Scholarship is going to vary for each student.
During the 2021/22 academic year, the maximum CBS award that you could get in order to pay for a private 4-year school was $11,904 per year. The state's 2 big public research universities have their own caps.
The maximum award you could get in 2021/22 at the University of Washington was $11,839 per year. At Washington State University, the maximum amount you could get as part of the College Bound program was $11,509 per year.
For a public community college or technical college, annual awards get capped at $4,833 per student per year.
The tuition rates of the school you've applied for will impact the maximum amount you can be offered. Any other state financial aid you receive (like college grants or other scholarships) will also likely lower the value of your award because your total aid package means your financial need isn't as great.
While the CBS program is ideal for helping low-income students pay for average tuition fees and textbooks, it doesn't cover most other expenses.
That means you're on your own concerning room and board, personal expenses, and transportation. In some cases, you might be able to cover these extra expenses through other forms of financial aid like federal grants, student loans, scholarships, work-study programs, or family funds.
You can learn more about the different types of financial aid here.
Who's eligible to apply for the College Bound Scholarship?
Although the College Bound Scholarship is an inclusive and state-wide program, it does have some eligibility requirements that are different from some other financial aid programs.
To enroll in the College Bound Scholarship program, you have to be a 7th-grade student or 8th-grade student whose family meets certain income requirements. The requirements can change each year. For the 2021/22 academic year, your family's total annual household income had to be below: 
$32,227 if you live in a house with 2 people

$40,626 if you live in a house with 3 people

$49,025 if you live in a house with 4 people

$57,424 if you live in a house with 5 people

$65,823 if you live in a house with 6 people
If you've got even more people than that in your house, simply add $8,399 per person, and that will be your income limit.
In other cases, you might be able to meet the financial side of the College Bound program's eligibility requirements if you get free school lunches. Since 2019, all Washington 7th graders, 8th graders, and 9th graders who are eligible to receive a free or reduced-price school lunch are identified and automatically enrolled in the College Bound Scholarship program.
Before this change in 2019, those students had to complete an application form—but we'll cover the application process (or lack thereof) in just a minute.
Regardless of household income, students in foster care are eligible for the program, too.
If you were placed in Washington state foster care between 7th grade and age 21, you'd automatically be enrolled in College Bound. This is done through a data-sharing agreement that WSAC (the organization that awards the scholarship) has in place with Washington's Department of Children, Youth, and Families (DCYF).
OK: so, that's the need-based element of the College Bound Scholarship. But in order to maintain your eligibility throughout middle school and high school, you also have to agree to the College Bound Scholarship pledge.
The College Bound Scholarship pledge states that you'll:
Graduate from a Washington high school or an approved homeschool program 

Earn a cumulative 2.0 GPA or higher

Graduate with no felony convictions

Apply for your state and federal financial aid by filling out and submitting either the FAFSA (Free Application for Federal Student Aid) or a WASFA (Washington Application for State Financial Aid) at the start of your senior year in high school
After you've fulfilled that pledge and submitted a FAFSA or WASFA, your income eligibility for the scholarship will be determined by your college.
To get your scholarship, you'll need to be accepted at one of the 65 eligible colleges and start attending classes there within a year of high school graduation.
The final eligibility requirement for this scholarship is about citizenship. To qualify, you'll need to either be a US citizen or an eligible non-citizen who meets Washington's state residency requirements.
How to apply for a College Bound Scholarship
If you've read up to this point and think College Bound sounds like the perfect program for you, you're probably wondering what the scholarship application is like.
Simply put: you don't apply for the College Bound Scholarship (or, at least not directly). In that way, the program kind of works like the national merit scholarship, and it gives you a real running start in terms of applying for aid. 
But let's break down exactly how it all works.
If you meet the income requirements and residency requirements we've already discussed, you'll be automatically enrolled in College Bound. That being said, if you don't fit into the auto-enrollment intake but feel like you qualify for eligibility in another way, WSAC encourages you to get in touch to apply.
The most likely scenarios where you'll need to apply directly are: 
You attend a private school or homeschool program and meet the income requirements

You're in another type of foster care program and aren't eligible for free or reduced-price school lunches.
Because most eligible students are automatically identified and enrolled in College Bound, you don't technically have to apply for the program. But in order to get your hands on the scholarship funds, you've got to complete a FAFSA.
The Free Application for Federal Student Aid (FAFSA) is the form you have to complete and submit if you want to get any sort of financial aid from the federal government to help pay for college. Even though it's a federal form, most states and colleges also use the FAFSA to determine which college-bound students (or existing students) get financial aid.
More importantly, schools use the FAFSA to determine how much money you should get.
If you're wondering about the sort of stuff that needs to go into your FAFSA, you should be ready to include lots of details about your family's finances. 
That means you'll need to put in family income information, and you'll probably have to include tax return records. As a result, most students ask their parents or guardian for help to complete the FAFSA.
To receive federal and state funding, you'll need to complete the FAFSA every year you plan on going to a higher education institution.
As an alternative to the FAFSA, you can also get a College Bound Scholarship by completing the Washington Application for State Financial Aid (WASFA).
The WASFA is for those students who aren't completing a FAFSA, and it's state-specific. That means if you only fill out a WASFA, you'll only be offered state-based financial aid—and so you might miss out on federal funding. That's why you should always fill out the FAFSA if you're eligible.
If you complete a FAFSA, you don't need to submit a WASFA. The state of Washington will use your FAFSA information to determine how much state aid you're eligible to receive, too.
But if you're not eligible for federal funds because you're undocumented or because of your immigration status, you should definitely fill out the WASFA. 
That's because each state is allowed to use its own set of rules for the college funding it awards to non-citizens, and so you may still qualify for funding even if you're undocumented.
After the Washington state government and the federal government has processed your aid application, that information will be passed on to the school you're planning to attend. From there, it falls on your college's finance office to send you a financial award letter. 
That letter should outline all of the funding opportunities that are available to you—including the College Bound Scholarship.
If you're looking for it on your award letter, the scholarship is normally listed on your funding offer as either "College Bound" or "CBS."
Conclusion
If you're a Washington student looking for an inclusive funding program, the College Bound Scholarship should probably be one of your first ports of call. 
It's a really useful program that seeks to encourage students from a young age to dream big and continue their education beyond high school and into college.
It's important to remember that this is a need-based scholarship. As a result, your family will need to meet income requirements. You've also got to fulfill the College Bound Scholarship pledge if you want to maintain and earn your scholarship.
Finally, the best part of the College Bound program is that you don't usually have to apply. Most students are automatically enrolled in the program! From there, all you've got to do to secure your funding is to submit a completed FAFSA or WASFA.
But the truth is, there are a whole lot of other scholarships out there—and you shouldn't have to miss a single one. Join Mos now, and we can instantly match you up with all sorts of scholarships and grant opportunities to pay for college.
Get paired with a financial aid expert

Get more money for school
Get me my money