Banking •
December 28, 2021
A complete guide to banking for college students
Read this guide from Mos to find out how banking for college students works.
Nobody wants to be that stereotype of the broke college kid—but the truth is, life as a student can be pretty hard. With so many academic (and social) commitments, it's impossible for most college students to work full-time. 
This means your income will be lower than you want it to be (even if the bills pile up).
And above all else, that's why it's so important for college students to understand the banking options available to them and choose the best student bank account to meet their needs.
This guide explains what a student bank account is, the key features of student bank accounts, how college students can get a student bank account, and which bank is most suitable for students.
Do yourself a favor. Get a smart money app and start getting your financial sh*t together!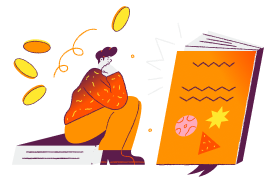 What is a student bank account?
Before we speed right on to what you should be looking for in the perfect student bank account, let's pump the brakes and talk about exactly what a student bank account is.
A student bank account is a special bank account that's been designed exclusively for college students or other young people.
The concept behind a student bank account is pretty straightforward. Most college students don't have a regular income if they're studying full-time. Even if you're a student working part-time to help fund your studies, you're not going to be bringing in the big bucks.
The problem is this: a lot of traditional bank accounts have monthly or annual account fees or minimum balance requirements. 
Most students can't afford to maintain those fees or balance requirements with whatever income they've got—so student bank account providers tend to waive those requirements and just about every monthly fee you may encounter.
As a result, a student banking product lets students bank and save cash without having to worry about getting penalized for not having a huge monthly income.
That being said, it's also important to bear in mind that student bank accounts do tend to go hand-in-hand with their own set of requirements. 
These requirements vary a little bit based on your banking provider. But generally speaking, you can expect most student bank accounts to feature an age requirement. 
This usually entails a limited age range. For example, you might find a student bank account that's only available to those aged 16 to 24.
In addition, some student bank account providers will require you to show proof of attendance in order to get up and running. This is normally going to be an acceptance letter or some other confirmation of enrollment.
Beyond these 2 basic requirements, most student bank accounts aren't going to ask for much else. That makes these banking products super accessible for students, and also pretty flexible in terms of how they can be used.
That's why student bank accounts are perfect if you want to take advantage of banking products without having to worry about monthly fees and income restrictions.
What are the features of a student bank account?
OK, so we've already covered the basics of student bank accounts. Now, let's delve a little bit deeper and look at some of the key features you should be looking for when you're shopping around for different student banking providers.
No maintenance fees
The first key feature of a student bank account you should be looking for is no maintenance fees.
Most traditional bank account providers or credit union providers tend to charge account holders a monthly maintenance fee. 
This monthly service fee is added to a non-student checking account in exchange for managing your account and offering all of the various services that go hand-in-hand with your account.
Banks normally take that fee right out of your account every month as a direct debit.
By contrast, most student bank account providers ask for super-low maintenance fees. Many more student accounts don't require a monthly service fee. These are the account types you should be shooting for.
No (or low) balance requirement
In addition to maintenance fees, a lot of banks require you to have a certain amount of money to open a bank account.
Likewise, you'll also run into various account types that will require you to keep a certain amount in the account on an ongoing basis. This is what's known as a "balance requirement", and it can be a real hurdle if you've not got a lot of cash to get started.
Again, this is the benefit of banking for college students: most student bank accounts don't have any balance requirement. 
That means you can start an account with no money at all—giving you access to banking services without having to stress about how much money you've got starting right out of the gate.
No deposit requirements
Balance requirements aren't the only requirements you've got to worry about as an adult. 
A lot of banks also tend to require you to have a certain amount of money going into your bank account on a monthly basis. This is known as a "direct deposit" requirement, and for most people, it just means you'll need to deposit your monthly paycheck into the account to meet the bank's requirements.
Most student bank accounts don't have a direct deposit requirement—so if you've got $1,000 going into your account in July, but only $5 in August, it's no big deal.
Overdraft protection
When you spend more money than you have in your bank account, you'll go into an overdraft. 
Normally when this happens to an adult, your bank is going to decline your payment. You may also be charged a non-sufficient funds (NSF) fee (or "overdraft fee"). 
But if you've got an account with overdraft protection, your bank will still let transactions go through without penalty—whether you have the money right now or not.
Overdraft protection isn't common in standard bank accounts. But a lot of student bank accounts do offer student overdrafts. Just make sure to read the fine print, because not all student bank accounts do come with an overdraft.
When you do find a bank account that offers an overdraft, it's important to understand this is effectively sending you a line of credit. Whether or not you get an overdraft is going to be based on your creditworthiness.
Sometimes, your bank will also offer overdraft coverage for one-time transactions. Alternatively, you might be able to link an eligible savings account or credit card that tops up your account if you go into an appointed overdraft.
Just remember: an overdraft isn't a "get out of jail free" card. If you go into an overdraft, this is money you've got to pay back to your bank—and there may be rules or a time limit around how and when you repay those debts.
How can college students get a student bank account?
If you'd like to set up a student bank account, the process itself is actually pretty straightforward.
You can typically set up an account either online or in-person—and if you're applying for an account online, it's usually only going to take between 5 and 10 minutes of your time.
No matter how you decide to apply, the journey of banking for college students begins with a short application form. You'll find this on the bank's website you've been checking out, or you can be provided with an application form in-branch.
When you apply for a student bank account, you'll normally need to provide:
Your full name

Date of birth

Address (potentially several years' worth of address history)

Social Security number (SSN)

Government-issued ID (normally just your driver's license or passport, if you have one)

Information about outstanding debt (like student loans)
If you're under age 18, some banks will also require parental consent to set up an account.
Some banks will also require you to provide proof of enrollment at a college or university before they can approve your application for an account—but a lot of banks just use your age as proof of eligibility.
Are you a study abroad student visiting the US?
Unfortunately, the process of setting up a bank account is slightly more complicated if you're an overseas student. In addition to the information you'd be expected to provide as a US citizen, most banks will also ask international students for:
Your passport 

Your student visa

Your I-94 card and I-20 form 

Any relevant information about debit cards or credit cards from your own country (and associated debit card purchases)

Your credit history report 

Proof of enrollment document (an acceptance letter will typically suffice) 

Proof of address (normally just a utility bill) 

Information about how much money you wish to deposit into your new account
After you submit your application, the bank will look through the details you've provided and make a decision on whether to provide you with an account. The waiting period will vary from institution to institution. 
But generally speaking, the process should be completed within a couple of business days.
After your application has been approved, you'll likely be sent a welcome pack with any relevant online banking information, a physical debit card, and details on any services you may want to take advantage of.
You'll then normally need to activate your new card by phone, online bank site, or mobile banking app before you can start using it.
It's also worth noting some colleges have a bank they partner with to offer students campus-affiliated checking accounts or prepaid debit cards.
Which bank is most suitable for students?
No 2 students are 100% alike—so the best student bank account for you might not necessarily be the best bank account for other college students. 
But generally speaking, there are several key features you should be looking for when choosing the best college student bank account for you:
Account types on offer (checking vs. savings)

No monthly fees or balance requirements

Online and mobile banking functionality

Large ATM network and nationwide availability

No ATM transaction fees

FDIC insurance (this covers bank accounts up to $250,000 per person per account)

Rewards (physical and cash, as well as services)

A flexible mobile banking app

Reliable online banking
Fortunately, by setting up a bank account with Mos, you can expect all these benefits and more. 
By setting up a college bank account through Mos, you'll gain access to a student bank account with no overdraft fees, minimum balance fees, or maintenance fees. When you set up an account through Mos, you'll get a digital bank card instantly, and you can order a physical card.
Mos enables you to take money out of your account for free, at 50,000+ ATMs across the US. You can also send, request, and receive money to your account instantly at no cost, and earn cash each time you invite a friend to join Mos.
Mos is perfect for college students because becoming an account holder means access to the largest scholarship pool in America, and expert help with financial aid from real-humans in-app.
You can keep your account safe using secure encryption, passcode, TouchID, and FaceID. Mos is also FDIC-ensured.
Finally, one of the pros of a Mos account is that you can link it with other existing bank accounts you've already got. All you've got to do is log into the bank account you want to link to your new Mos account, and then just follow their instructions to connect your Mos account.
There are a whole lot of student bank accounts out there—with any bank, make sure to read the fine print and look at the features (and fees) you're signing up for.
Check out the Mos card to get connected with grants and scholarships to help fund your degree.
Conclusion
The bottom line is this: banking for college students can be incredibly complicated without a student bank account. Student accounts are designed specifically for young people, and they'll help you avoid all sorts of nasty fees and extra charges that standard account holders have got to put up with.
Fortunately, setting up a student bank account is fast and simple. There are loads of options out there, so you've just got to make sure you do your homework and understand the key features you should be looking for in a student account.
So, ready to start banking? Mos has absolutely no overdraft fees, zero late fees, and no in-network ATM fee. So, what are you waiting for? Check out our resource center, and join Mos.com to get connected with grants and scholarships to help fund your degree.
Get paired with a financial aid expert

Get more money for school
Get me my money