Banking •
December 28, 2021
The 7 best bank accounts for teenagers
Did you know teenagers can open a bank account with their parents? Here are the top account choices for teens.
When it comes to bank accounts for teenagers, there are a lot of options to choose from.
As a parent, you want what's best for your kid. And as a teen, you want something flexible and straightforward without a bunch of money-sucking fees.
But let's face it—whether you're 13 or 30, reading all the fine print and financial mumbo-jumbo is a painful task. So that's why we've done it for you!
In this article, we'll review the best bank accounts for teenagers. We'll also cover the benefits of teen bank accounts and what to look for when choosing an account.
Let's dive in!
What is a teen bank account?
A teen bank account is designed specifically for teens between the ages of 13–17.
These accounts typically have certain advantages that ease teens into banking, like:
Lower or no fees 

No minimum balances

Overdraft protection

Educational content that teaches teens about money
Generally, banks and financial institutions won't open accounts for minors. If you're a teen, you'll need a cosigner, making the account a joint account. And if you're a parent, you'll likely be the joint account holder on the account.
What happens to a teen bank account when you turn 18?
When you turn 18, you reach the age of majority, meaning you're a legal adult. And if you have a teen bank account, it's converted to an adult account! 
Your account number should stay the same, but you'll likely lose some of the perks that came with your teen account.
Can I use a teen bank account in college?
If you're heading off to college, you'll want to look into a student bank account. These accounts offer similar advantages as teen accounts but don't require an adult cosigner. 
Plus, student accounts often come with special features exclusively for college students, like low fees and extensive educational materials about your finances.
Why are teen bank accounts useful?
Teen bank accounts are practical.
For starters, they give teens financial independence as well as firsthand experience with managing money and working toward financial goals.
And at the same time, bank accounts also introduce teens to basic financial concepts like budgeting, interest, and credit.
That said, money management and financial literacy aren't the only skills teens sharpen by having a bank account. They also learn the "baby steps" of banking—simple skills every teen should master, like:
Using a debit card

Checking account balances

Transferring money

Using an ATM
Sure, these skills are trivial compared to "big guns" like fiscal responsibility and financial literacy. But, they're still important, practical abilities teens should learn. Teens will be much more ready for the big stuff when they become adults.
What are the best bank accounts for teenagers?
Up next, we'll review the 7 best bank accounts for teenagers. 
Some of these teen account options come from brick-and-mortar banks, and others are available through online-only banks.
So whether you prefer the complete, face-to-face banking experience or you're more of a "do it from the comfort of my own phone" type of person, we've got options for you.
1. Mos
Hey, that's us! Now, maybe you've heard of Mos, maybe you haven't. But here's the low down on:
We're basically part banking app, part college financial mentor.
Not only can we help you get free money to pay for college, but we can also save you money with our fee-free debit card and checking account.
Mos isn't just for college students anymore. We now offer joint bank accounts. That means teens can open an account with their parents and access all the same banking features. 
We've partnered with Blue Ridge Bank, an FDIC-insured community bank (we'll talk more about what this means in a later section). And as a result, we're able to offer you awesome banking services, like:
Mobile and online banking

Access to 50,000+ fee-free ATMs

Fast, easy money transfer options

No minimum balance or monthly maintenance fees

No minimum opening deposits

No overdraft fees
But let's sweeten the pot. 
Our debit card earns you rewards like a credit card would—something not many banks offer.
With your Mos debit card, you can earn 1% in rewards points on every qualifying debit card transaction in your chosen category both in-store and online. The default category is food and drink, but you can change it once every 30 days to 1 of the following categories:
Shopping

Entertainment

Travel
Plus, more as we add them.
Once you accumulate enough points, you can redeem them for cash and put that cash right into your Mos checking account. In the future, you'll be able to make sweet purchases with those points.
The points never expire, so save them up and redeem them whenever you'd like.
Oh, and Mos account holders can access student-exclusive deals and discounts through Mos to take their savings even further.
Plus, Mos vets and sources gigs specifically for college students to earn points in the in-app marketplace. So you can earn some extra cash and save it in your Mos account. 
Walking dogs, selling class notes, tutoring fellow students—these are just a few jobs you can find in the app.
That's not all. Remember how we just mentioned that we're a college financial mentor?
With Mos, you also get other dazzling advantages like:
1:1 college financial coaching: Get help planning for your college personal finances and managing your money as a student.

A platform for browsing and applying for scholarships and grants: Get matched to scholarships and grants you may qualify for to cover the cost of college tuition, and apply directly from the Mos app.

Help filling out your FAFSA: Get help filling out the FAFSA and maximize the potential aid you could qualify for.
And lots more!
Since Mos is now available for teens, you could start preparing for college and hunting for financial aid early. More time to potentially win more free college money.
If the potent fusion of youth banking and college financial mentorship is exactly what you're looking for, check Mos out today.
2. Chase High School Checking
Chase is 1 of the biggest financial institutions in the US, with 4,700 bank branches across the country. So, if in-person banking is your jam, consider the Chase High School Checking account.
 Account highlights include:
Available for ages 13–17 (with a cosigner)

No minimum balance or monthly maintenance fees

Free ATM withdrawals at over 16,000 ATMs

Mobile and online banking 

Parental controls

Fee-free money transfers (requires enrollment in Zelle®)

"Autosave" (an automated savings tool)
The Chase High School Checking account requires an adult cosigner with a valid Chase checking account.
And once you turn 19, your High School Checking account seamlessly converts to a Chase Total Checking account. If you're attending college, you can convert it to a Chase College Checking account instead to take advantage of student banking benefits, like low fees.
3. Wells Fargo Clear Access
The Wells Fargo Clear Access account is a solid choice for teens (or parents) looking for a bank account with a complete set of money management tools.
Highlighted features include:
Available for ages 13 and up (teens 16 and under require an adult cosigner)

No monthly service fee

No overdraft or NSF fees (for teens)

$25 minimum opening deposit

Access to over 12,000 ATMs

Mobile and online banking

Fee-free money transfer (requires enrollment in Zelle®)

Budgeting and spending tools
Teens 17 and older can be the primary account owners on a Clear Access account. In other words, they don't require a cosigner.
So if you want more autonomy with your money, Clear Access might be the teen bank account for you.
While the account boasts no overdraft or NSF fees, the fine print states that other fees may apply.
4. Copper Banking App
The Copper Banking App is a free mobile banking app designed specifically for teens. 
Copper helps teens manage their money with in-app tools and also helps build financial skills through quizzes and educational content.
Some highlights of the Copper Banking App include:
Available to everyone (if you're under 18, you'll need an adult to help activate your account)

No monthly service fees

No minimum balance

No overdraft fees

No minimum opening deposit

No ATM fees (but you may be charged a fee by out-of-network ATM operators)

Access to over 50,000 ATMs (Allpoint or Moneypass ATMs)

Parental tools

Automatic savings tools

Mobile and online banking
Technically, Copper Banking is a fintech company. But through their partnership with Evolve Bank and Trust, they provide FDIC-insured banking services.
Overall, Copper is a fantastic option if you want a fee-free teen bank account with tons of supplemental material to teach you about personal finance.
5. Current 
Current is a banking app that helps users manage their money with in-app features.
While not specifically made for teens, teens can open and maintain a Current account by linking to a parent's account.
Highlighted features from Current's teen accounts include:
Available for ages 13 and up (teens under 18 must link to a parent's account)

No minimum balance

$36 annual fee for each teen account

Budgeting and savings tools

Parental controls

Fee-free withdrawals at Allpoint ATMs

Instant money transfers (to linked accounts)
Similar to Copper, Current is a fintech company whose FDIC-insured banking services are provided by Choice Financial Group and Metropolitan Commercial Bank. 
Current is an excellent option for a teen bank account if your parents are always sending you money—instant transfers are handy when you need money quickly!
6. Alliant Credit Union Teen Checking
The Alliant Credit Union Teen Checking account is available for teens aged 13–17. To be eligible, a parent must have an account with Alliant Credit Union. 
Unlike most teen bank accounts, the Teen Checking account from Alliant Credit Union earns 0.25% annual percentage yield (APY). Not bad!
Highlighted features of Alliant Credit Union's Teen Checking account include:
No minimum balance

No monthly service fee

No minimum opening deposit

Parental controls

Interest earned (0.25% annually when you have at least one direct deposit every month and opt-in to receive eStatements)

$20 in ATM rebates (for out-of-network ATM use)

Access to 80,000+ fee-free ATMs 

Mobile and online banking
The combo of zero fees plus the ATM rebate and the ability to earn interest make Alliant Credit Union's Teen Checking account an attractive banking option.
And like all other banks and credit unions on this list, Alliant Credit Union is also FDIC-insured.
7. USAA Youth Spending Account
The USAA Youth Spending Account is geared toward teens from military families. If you have a parent in the military and they bank with USAA, you're eligible for a Youth Spending Account.
Account features include:
No minimum age (but you need to be at least 13 to use the mobile app)

No minimum balance

No monthly service fee

Parental controls

Access to 60,000+ fee-free ATMs

Mobile and online banking
Youth Spending Accounts earn annual interest on all balances. The interest, however, isn't anything stellar at 0.01%.
If you're in a military family and get shuffled around a lot, having access to 60,000 ATMs nationwide, up to $15/month of out-of-network fee reimbursement, and a top-notch mobile app are big advantages to consider when shopping for a bank account.
Do yourself a favor. Get a smart money app and start getting your financial sh*t together!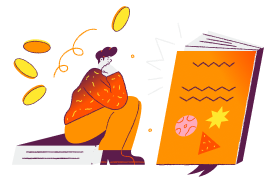 What to look for in a teen bank account
All teen bank accounts come with slightly different, though equally snazzy, features. So, how do you narrow down your options?
Don't sweat it. We've done the dirty work for you here.
Let's look at the 7 features that matter most when choosing a teen bank account.
1. No monthly fees
Many banks charge fees, like:
Monthly maintenance fees

ATM fees

Overdraft fees

Wire transfer fees
Thankfully, most teen bank accounts waive some of these fees, and others waive all of them.
Still, be fussy about fees and prioritize fee-free accounts in your search.
2. No minimum balance
Some banks require a minimum deposit before you can even open an account. And others demand a minimum balance be kept in the account at all times.
Some banks require both.
You're a teen, and you likely aren't bringing in much money by yourself, so keeping a minimum balance in your account might be difficult.
Fortunately, most teen bank accounts don't require large deposits to open an account, and many banks waive minimum balance requirements altogether for teens.
3. ATM access
Out-of-network ATMs charge a usage fee, and these fees add up fast.
And the worst part? Not only does the ATM operator charge you a fee, but usually, your bank does too.
Now, the best way to avoid this double-whammy ATM fee is to choose a bank with an extensive ATM network, giving you access to more in-network, fee-free machines.
Additionally, some banks offer out-of-network ATM fee reimbursement. Banks with this feature cover the costs of ATM fees incurred at out-of-network ATMs up to a certain amount each month. Try to find a bank that offers this alongside a large ATM network.
4. Parental controls
Parental controls might turn off some teens. But, when learning how to handle money, having a watchful eye over your finances can help steer you in the right direction.
These parental controls can include parental notifications for account transactions, spending limits, and daily transaction limits, among other things.
5. Budgeting tools
Budgeting is an invaluable life skill. But, according to Schwab's Modern Wealth Survey, only 33% of Americans have some form of a written financial plan.
With that in mind, choose a bank account with easy-to-use budgeting and spending insight tools.
These tools can help you build smarter spending and saving habits, helping you curb debt throughout adulthood and reach your savings goals!
6. Online and mobile banking
As a teen, technology is weaved into your everyday life. And your bank account shouldn't be any different.
When choosing a bank account, look for online and mobile banking features like:
Budgeting and spending summary tools

Mobile check deposits

Fast, easy money transfer options

Digital bill payments

A top-notch banking app
Look for a user interface that's simple to use as well. The easier it is to manage your banking on the go, the better.
7. FDIC insurance
No matter what bank account you choose, make sure it's covered by the Federal Deposit Insurance Corporation (FDIC).
FDIC insurance guarantees you'll get your money back (up to $250,000) in the event your financial institution goes out of business (yes, it happens). 
Keep in mind that FDIC insurance only covers bank failure. It doesn't protect against identity theft or any other unlawful withdrawals from your account.
How to open a teen bank account
Generally, opening a teen account is pretty straightforward.
Here's a brief overview of the process, including the documents you'll need on hand.
Have an adult cosigner
Teen bank accounts require an adult cosigner. 
Also, as we talked about before, some banks may require your adult cosigner to have their own account with the financial institution in question. 
Supply personal and contact information
When signing up for your account, you and your adult cosigner must provide personal and contact information, including:
Names

Addresses

Dates of birth

Social Security numbers

Government-issued identification 
Supply your minimum deposit (if necessary)
If your account requires a minimum opening deposit, you'll need to present this during the signup process. However, some banks give you 30 days to make this initial deposit, so be sure to check beforehand.
You can meet this minimum deposit immediately after opening via cash or check, or you can perform an ACH transfer if you have a grace period to make the deposit.
Account approval and review: in-person and online
If you're signing up for your account in person, a representative will review your application. And if you're approved, they'll review important information about your bank account, like fees, limits, and minimums.
Generally, you have to schedule an appointment to open an account in person. This process can take 30 minutes to an hour, depending on the bank.
If you're applying for an account online, approval usually takes a few minutes. And if you're approved, you'll have the option to download your important account information, or the bank will send it in the mail.
After your account is approved
After your account is approved, either online or in person, you'll receive a debit card and all documentation related to your account. Some banks provide your debit card and documentation on the spot, but others take a few days to send you a personalized card with your name on it. Keep all this information in a safe place, such as with your parents.
If you have a job, you can also consider setting up direct deposit. Direct deposit makes it easier to build up savings in your account since your paycheck goes straight to the account.
And that's a wrap on bank accounts for teenagers
Honestly, pinpointing the perfect bank account for teens can be a bit overwhelming. 
Fortunately, most teen bank accounts deliver similar benefits, so it's unlikely you'll choose a terrible option.
Still, pay attention to teen-friendly features (like no fees!) as well as your near-future needs.
For example, if you're heading off to college and looking for an all-in-one student bank account, check out Mos.
Happy banking!
Get paired with a financial aid expert

Get more money for school
Get me my money